Keynote Speakers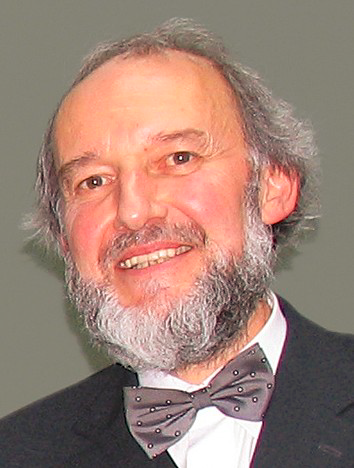 Prof. Dr. Reinhold Haux
Peter L. Reichertz Institute for Medical Informatics
of TU Braunschweig and Hannover Medical School, Germany
President, International Academy of Health Sciences Informatics

Reinhold Haux is Professor for Medical Informatics at the Peter L. Reichertz Institute for Medical Informatics of TU Braunschweig and Hannover Medical School, Germany. From 2007 to 2017 he has served as Executive Director of this institute.
His current research fields are health-enabling technologies, health information systems and management, medical data management (analysis and representation of medical data), as well as synergy and intelligence: extended interaction of living and non living entities.
Dr. Haux is author and editor of more than 400 publications. He has supervised about 50 doctoral theses.
For the term 2007-2010 he was President of the International Medical Informatics Association (IMIA), an NGO of the World Health Organisation. From 2001-2015 he was editor of the journal Methods of Information in Medicine, where he is now senior consulting editor. He has, from 2001 to 2007, co-edited the IMIA Yearbook of Medical Informatics.
Reinhold Haux is, among others, elected member of the Braunschweig Scientific Society and of the International Academy for Health Sciences Informatics, where he since 2018 serves as the Academy's President.
Details at "www.plri.de".
Speech Title "On Extended Collaboration of Entities with Natural and with Artificial Intelligence: What is Possible and What is Appropriate? "
This keynote lecture is dealing with future forms of collaboration and with its (hopefully existing) extended synergies, which may now will come in our era of digitization. Entities in this collaboration are we, the human beings, and other living entities such as animals with 'natural intelligence' as well as non-living entities, in particular functionally comprehensive machines, with 'artificial intelligence' ([1], [2]). These new, future forms of collaboration with all its potential opportunities and risks became more and more part of my research during the last years, in particular in the field of medicine and health care ([3], [4]). As a follow-up to my lecture at ICIMTH 2019 ([5]) there will be in this keynote a specific focus on what is realistically possible in the context of extended collaboration as well as what can be regarded as really appropriate and not just technically feasible.

Dr. Tomohiro Matsuda
National Cancer Registry Section, Center for Cancer Registries,
Center for Cancer Control and Information Services, National Cancer Center

Dr. Tomohiro Matsuda was born in Tokyo, Japan in 1973. After graduating Kobe University (1996) and Tokyo University (1998), he moved to France as a doctoral student in Paul Sabatier University in Toulouse. He joined Tarn cancer registry, and received a doctoral degree in epidemiology (2003). Dr. Matsuda landed a position of researcher in the Division of Epidemiology in the National Institute of Public Health in Japan.

Currently Dr. Matsuda works in the National Cancer Center in Tokyo as chief of the national cancer registry section, while pursuing research in descriptive cancer epidemiology, especially in incidence and survival comparison. Since 2006, he has managed a project to standardize registration methods and played a key role in enacting the Act on Promotion of Cancer Registries (2013). Dr. Matsuda has been involved in international cancer registration training programs in Korea, China, Malaysia, Indonesia, Philippines, Myanmar, etc. and in the GICR project as the director of the IARC Collaborating Center in Japan. Dr. Matsuda has been the president of the International Association of Cancer Registries, IACR, since 2016 enhancing the capacity of cancer registries worldwide.
Speech Title "The use of medical data and cancer research across specialties and countries "
Cancer statistics for 2017 have been published in Japan, revealing that 974,000 cases are diagnosed annually. Nation-wide population-based cancer registries are developed in Western countries and in Asia such as Taiwan, Singapore and South Korea with the quality indicator, death certificates only (DCO) proportion of around 1%. Nationwide coverage and high quality mark the end of the curtain on the development of a cancer registry in a country, however, in the Nordic and North American countries, population-based cancer registry data are being organically linked to other medical statistical sources, ultimately making multiple databases seamless and changing the way data are maintained. Barriers to achieving such environment in other parts of the world would include introduction of personal identification number, negotiations with organizations responsible of each database, changes in legal rules and communication with the general public. Maximizing interest in the use of data goes beyond the intended use of medical information and does not advance by infrastructure development alone. Population-based data provide a means to inform cancer control planning and monitoring, but can also help organize, for example, clinical trials. Both clinical and epidemiological research requires regional cooperation. No matter how much we stimulate an expert in a field, the constraints of our expertise will limit our activities. There has also been a shift in focus to how to collaborate with academia and industry on intervention projects across disciplines, and a "matching site" of agencies has been created in the US. Collaborating across countries, specialties and industries is an available solution to globally tackle the increasing burden of disease.


Dr. Su-Hsin Chang
Department of Surgery, Washington University School of Medicine in St. Louis.

Dr. Su-Hsin Chang is Assistant Professor of Surgery in the Division of Public Health Sciences, Department of Surgery, Washington University School of Medicine in St. Louis. Dr. Chang received an S.M. degree from MIT and a Ph.D. degree in Economics from the Johns Hopkins University. She received her post-doctoral training in Health Services Research from Washington University School of Medicine in St. Louis. Her research has focused on health and economic burden of obesity, obesity-related chronic diseases, malignancies, and multimorbidity. Her work also focuses on comparative effectiveness and cost-effectiveness of surgical treatment of obesity. She was a recipient of a Washington University Comparative Effectiveness Research K Award and an AHRQ K Award. She leads multiple projects funded by AHRQ and NIH. She serves as an Editorial Board member of the Medical Decision Making Journal and MDM Policy and Practice.